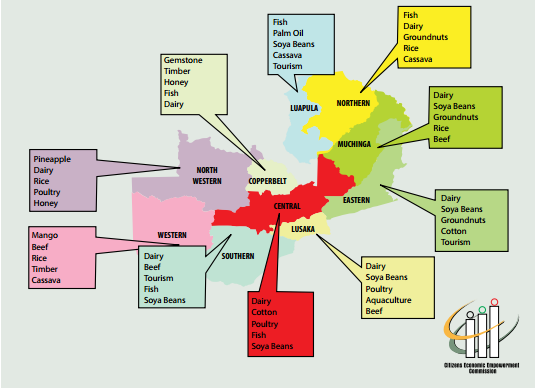 The Citizens Economic Empowerment Commission
Since independence, the Zambian Government has embraced economic empowerment of citizens as an integral part of its national economic transformation program enshrined in its policies and strategies.
In the early years of independence, such economic transformational initiatives included the 1968/69 Mulungushi Economic Reforms, the Zambianisation program and the Matero Economic Reforms of 1969. In the 1990s, the Government implemented the privatization program which was aimed at transferring the majority of state assets to the private sector in which Zambian citizens were also to participate.
The Citizens Economic Empowerment Commission (CEEC), a statutory under the Ministry of Small and Medium Enterprise Development(MSMED), is a body corporate which was established by the CEE Act 0f 2006 whose mandate is to promote broad based and equitable economic empowerment of citizens that are or have been marginalized or disadvantaged and whose access to economic resources and development capacity has been constrained due to various factors such as race, sex, educational background, status and disability.
Unfortunately, all these programs meant for citizens' economic empowerment did not achieve the Government's intended outcomes due to various factors, such as limited absorptive business and entrepreneurial capacity among Zambians.  In order to ensure equity, ownership and control of the means of production by citizens and to redress these imbalances in the economy, the Government decided to be more deliberate by creating an economic empowerment policy which eventually led the enactment of the Citizens Economic Empowerment Act (CEE) number 9 of 2006.
CEEC is therefore the vehicle by which the Government would like to transform Zambia into a nation where citizens are playing a key role in economic activities with greater participation of targeted citizens, citizens influenced companies, citizens empowered companies, and citizens owned companies.
Targeted citizens are Zambians who historically have been either marginalized or disadvantaged and have no access to economic resources or opportunities; Citizens Influenced Companies are companies that have allowed between 5% and 25% citizens' ownership participation; Citizens Empowered Companies and those companies in which citizens' ownership participation ranges from 25% to 50%; and Citizens Owned Companies are companies in which citizens' ownership participation is above 50%.
Our Mission Statement
To foster broad-based Economic Empowerment of the targeted Citizens and Companies through diverse and integrated economic strategies in order to contribute to social-economic development.
Our Vision
A Leader  in providing sustainable and inclusive Citizenry Economic Empowerment.
Our Core Values
• Team Work
• Integrity
• Accountability
• Transparency
• Professionalism
• Fairness
Total Page Visits: 15784 - Today Page Visits: 6