THE ANNUAL PRESIDENTIAL AWARDS
The Annual Presidential Awards are designed to recognize, motivate and award MSMEs and Cooperatives that have excelled and significantly contributed to the country's economy through business growth, innovation within the business and job creation.
The Awards are held annually and shall involve a competitive, fair and transparent selection process of MSMEs and Cooperatives impacting the Economy across all sectors and throughout the country by a professionally constituted team of adjudicators.
ELIGIBILITY CRITERIA
Must be operating in Zambia
Must be an MSME and/or Cooperative as categorized by the government
Must demonstrate innovation within the business
Must demonstrate growth in the business in terms of sales volume and profits
Must demonstrate that they have created decent jobs
Must demonstrate social impact of the business on the community.
AWARD PRESENTATION
All winning candidates shall be presented with trophies and cash amounts for Business Expansion by His Excellency, The President of the Republic of Zambia or a Representative at an event organized by the Commission .
CATEGORIES TO BE AWARDED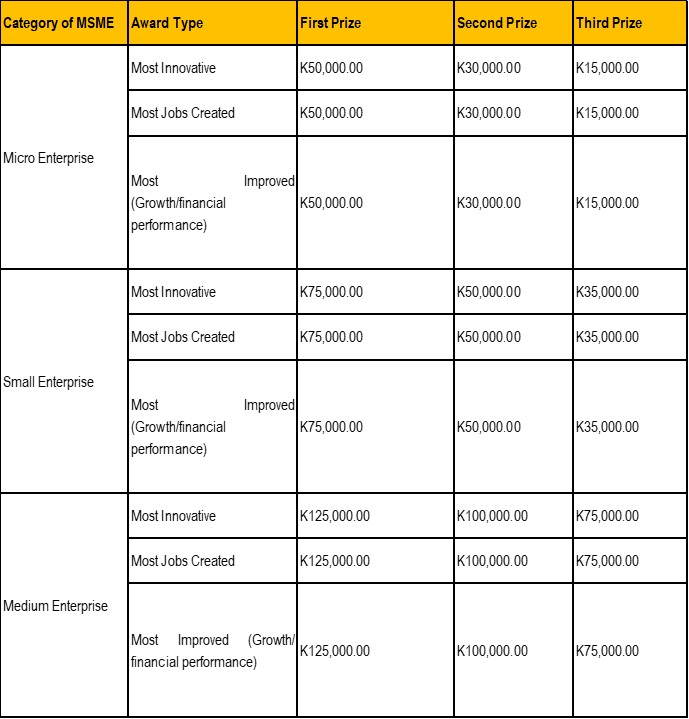 Total Page Visits: 52 - Today Page Visits: 1